Back to List
News
March 22, 2023
This Island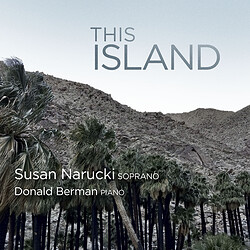 AVIE Records has announced that American soprano Susan Narucki, "one of the great practitioners of contemporary vocal music" (Opera News) has curated and recorded a unique set of art songs in an album titled This Island. The collection of 20 songs also features eminent pianist Donald Berman, a longtime collaborator of Ms. Narucki's. The album consists of a collection of songs, chiefly by women, written in the first half of the 20th century, some of them receiving their world premiere recording here.


As Ms. Narucki explains, "During the summer of 2020, I turned to The Dark Interval, a slender volume of letters written by Rainer Maria Rilke to a friend, as an antidote to the profound sense of disconnection that was upon all of us in those early months of the COVID pandemic. A single reference made by Rilke in one of these letters was the catalyst for This Island:
'...If you could only be here with me so I could share with you the happiness of these great poems, they would let you realize what we all now need more urgently: that transience is not separation...'

The poems Rilke cites are those of the Belgian poet Emile Verhaeren, a Symbolist in whose work the possibility of human transcendence is paramount."
Ms. Narucki's search for settings of Verhaeren's poetry took her on a circuitous route to the music of composers both familiar and virtually unknown. "I was particularly drawn to Verhaeren's cycles Les Heures Claires, Les Heures dÁprès-midi and Les Heures du Soir, and found marvelous settings by Nadia Boulanger and Raoul Pugno (in collaboration), and more by Belgian composer Irène Fuerison. My Verhaeren quest also led me to a composer
completely unknown to me, Élisabeth Claisse, who had set Verhaeren's poems in 1922-23.
"Interconnections emerged that led to other discoveries as well, such as an early set of songs by American Marion Bauer (1882-1955), whose visits to Paris brought her in contact with Yves Tanguy, Raoul Pugno and Nadia Boulanger. With texts by Imagist poet John Gould Fletcher the songs vary from exploring simple experiences - changes of light over the course of a day, a gently rocking boat on a lake - to depictions of monumental landscapes of the vast, open American West. I had been aware of Dutch composer Henriëtte Bosmans from many years I spent in Holland, and researching her music brought the project full circle. What started as a response to isolation led me to an online treasure hunt on an imaginary musical island."
Ms. Narucki's recent and upcoming performances include:
RICHARD STRAUSS: Four Last Songs
11 February 2023 @ 7:30pm PT
12 February 2023 @ 2pm PT
La Jolla Symphony & Chorus / Steven Schick, Conductor
On a program that features a new work by Mary Kouyoumdjian, the Firebird Suite by Igor Stravinsky, Edgard Varèse's Octandre
IN RECITAL: SUSAN NARUCKI AND DONALD BERMAN
08 March 2023 @ 7pm PT
Conrad Prebys Concert Hall, UC SAN DIEGO
A concert continuing Narucki & Berman's exploration of the songs of women composers, in a recital celebrating International Women's Day. Works by Tania León, Judith Weir, Miriam Gideon and Margaret Bonds.
VOCAL CHAMBER MUSIC
17 May 2023 @ 7pm PT
Conrad Prebys Concert Hall, UC SAN DIEGO
Featuring works for voice and small ensemble by Sofia Gubaidulina, Elena Firsova, Agata Zubel and others.
With luminous tone and distinctive artistry, American soprano Susan Narucki has earned international acclaim as a champion of new music. Over the years Ms. Narucki's creative projects, which introduce new music to audiences outside traditional concert hall settings and illuminate broader issues in society, have become recognized and increasingly valued by both the artistic and philanthropic communities. In recent years, in cooperation with a community of generous funders, she has commissioned two chamber operas. The most recent of these is Inheritance, a work by Grawemeyer Award-winning composer Lei Liang and Rome Prize-winning librettist Matt Donovan examining America's gun culture. It was premiered in 2018 and has been released as a recording on Albany Records (TROY 1819). Cuatro Corridos (music: Hebert Vásquez, Arlene Sierra, Lei Liang, Hilda Paredes; libretto: Jorge Volpi), which deals with sex slavery and human trafficking across the Mexico/California border, has been performed multiple times in both the U.S. and Mexico, and was recorded by Bridge Records (9473). The recording was nominated for a Latin Grammy Award.
At the University of California at San Diego, where she has been on the music faculty since 2008, Ms. Narucki was named inaugural Director of Arts and Community Engagement, an initiative from the Division of Arts and Humanities whose goal is to connect students, faculty, alumni, staff and the greater community in a variety of performance, program and academic activities that highlight art as a means of fostering broader cultural dialogue and civic engagement. In 2020 she was also named Distinguished Professor of Music.
A dedicated advocate of the music of our time, Ms. Narucki has given over one hundred world premieres and has enjoyed close collaborations with such composers as Louis Andriessen, György Kurtág, Elliott Carter, Pascal Dusapin and George Crumb. Ms. Narucki has made over fifty recordings of music of the 20th and 21st centuries in a wide array of styles, to broad critical acclaim. Her recording of vocal works by György Kurtág, The Edge of Silence (AVIE Records AV2408) was nominated for a Grammy Award as Best Classical Solo Vocal Album, was chosen one of "The 25 Best Classical Music Tracks of 2019" by the New York Times, and was named "Critic's Pick" by Opera News. In addition to The Edge of Silence and Cuatro Corridos, her extensive discography includes two more CDs recognized by The Recording Academy: Ms. Narucki's performance of Elliott Carter's Tempo e Tempi was nominated for a Grammy for Best Classical Vocal Performance, and George Crumb's Star-Child, a piece for soprano, choirs, bell ringers and orchestra, won the Grammy for Best Classical Composition in 2001. Her recording The Light that Is Felt: Songs of Charles Ives with pianist Donald Berman was selected as Editor's Choice of BBC Music Magazine. In addition to the Grammy Award, Ms. Narucki's recordings have won the Cannes Award (Best Recording of Works of a Living Composer), L'Académie du Disque Lyrique's award for Best Recording of 21st Century Opera (for James Dillon's Philomela), and others.
Susan Narucki made her professional debut at the 1986 Ojai Festival in the West Coast premiere of Kurtág's Messages of the Late R.V. Troussova, with members of the Los Angeles Philharmonic led by conductor Kent Nagano. Her new recording, This Island was released by AVIE Records in February 2023.
Donald Berman has been on the frontlines of new music scholarship, performance and recording for decades. A pianist and scholar of exceptional gifts, he has been a Fellow at Radcliffe Institute for Advanced Studies, guest lecturer at Northeastern University, Director of New England Conservatory's Summer Piano Institute, and now serves as Keyboard Studies Chair at the Longy School of Music of Bard College, as well as President of the Charles Ives Society. As General Editor of the 3-volume Charles E. Ives: Shorter Works for Piano, Mr. Berman has collaborated with two publishers to issue a new edition of these important works. As of the fall of 2022, all three volumes, which required over 30 years of editing, have been published.
* * * * *
Photo of Susan Narucki by Lisa-Marie Mazzucco.
Images of Rainer Maria Rilke, Émile Verhaeren and Les Heures Claires courtesy Alamy.
See Related: