Back to List
News
February 6, 2023
Toronto Symphony Orchestra 100th Anniversary Tour Tool Kit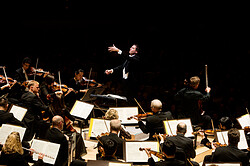 On Monday, 13 February 2023 at 8pm, the Toronto Symphony Orchestra (TSO) will return to Carnegie Hall for the continuing celebration of its 100th anniversary season. The date is the centerpiece of a brief tour - Southam Hall in Ottawa on Saturday, 11 February at 8pm; Symphony Center in Chicago on Tuesday, 14 February at 8pm - the Orchestra's first under the direction of Music Director and Conductor Gustavo Gimeno. "I am beyond excited to be embarking on this journey with the TSO." says Mr. Gimeno, appointed as Music Director in 2020. "Not only is it our first tour together, but the New York concert will also represent my Carnegie Hall debut and the Chicago concert marks the TSO's debut at Symphony Center."
The Toronto Symphony is indeed engaged in opening a new chapter in its history, one which will be powered by a dynamic partnership between two leaders: Mr. Gimeno, and the Orchestra's CEO, Mark Williams, newly appointed in the spring of 2022. "Gustavo and I have known, worked with and admired one another for years, so it is particularly fitting that we now find ourselves colleagues, collaborating on a new vision and a new direction for this terrific orchestra." says Mr. Williams. "Two of our biggest priorities are new music and audience diversity. The TSO has a solid history in both realms, but we believe we can add more layers of depth and relevance going forward, as they are the two most important keys to really expanding the growth and success of the TSO over its next 100 years."
The tour's concert program features two much-beloved audience favorites: Lalo's Symphonie Espagnole (featuring Spanish violinist María Dueñas), and in a nod to Valentine's Day, a suite compiled by Mr. Gimeno from Prokofiev's Romeo and Juliet. The very first piece on the program is a new work commissioned by Mr. Gimeno from Canadian composer Samy Moussa. Says Mr. Gimeno "This will not be the kind of short piece often programmed by orchestras, a brief-as-possible gesture to new music. This is a substantial work of 20 minutes, Moussa's Symphony No. 2, in its U.S. premiere. We believe strongly in giving young composers the attention they deserve, and to sharing our discoveries with our audiences in creative ways."
The Toronto Symphony is a champion of new music, with a rich tradition of playing and commissioning new works. Since 1960 the Orchestra has commissioned almost 200 compositions, from such composers as John Adams, Nicole Lizée, John Harbison, Mark Anthony Turnage, Jennifer Higdon, Philip Glass, Tod Machover, Mason Bates, Peter Lieberson, Luigi Nono, André Previn, Abigail Richardson, Jörg Widmann, Vivian Fung and many more. And in their pursuit of bringing important compositional voices to light, Williams and Gimeno are thinking not only of today's composers but the rising stars of tomorrow. Each year the TSO teams up with the Canadian Music Centre to hold composition-reading sessions called Explore the Score. These sessions provide emerging composers the opportunity to hear their compositions played by a first-rate orchestra, a rare and invaluable tool for the development of a natural talent. Then there is the NextGen Composers series: As part of Mr. Gimeno's commitment to supporting and developing Canadian talent, each season he selects early-career composers to be mentored and have a five-minute piece performed during the season. The composers most currently chosen for this program are Luis Ramirez, Fjola Evans, and Matthew-John Knights.
The other top priority for the Toronto Symphony is well articulated in an interview Mark Williams gave in the Toronto Globe and Mail: "Ultimately, my dream is that the audience for any TSO concert looks like Toronto—has the diversity, the texture, the fun, the depth that this city has. Because when that happens, I'll know this organization is serving everyone, and it's of the city." One could hardly illustrate this philosophy better than to describe the Orchestra's offerings on 24 September 22, its Open House and Free Concert day to celebrate its 100th anniversary. Four thousand members of the community - both familiar faces and new friends - came to participate in a full day of concerts, activities, contests, games and general merriment. No prior experience with the Toronto Symphony required; no special clothes, no level of music education, nothing expected of audience members except open ears, a curious mind and a sense of fun.
The TSO has also developed a number of programs to engage the community: The Art of Healing, a new initiative in collaboration with CAMH (Toronto's psychiatric teaching hospital Centre for Addiction and Mental Health) that supports First Nations, Inuit, and Métis patients through storytelling and musical composition; in-person children's concerts targeted to specific grade levels; online learning programs; open rehearsals; teachers' study guides; Young People's Concerts focused on specific topics ("Reggae Roots"; "The Hockey Sweater"; "Why Sci-Fi?"); "Relaxed Performances", intended to be sensitive to and welcoming of neurodiverse audiences, including patrons on the autism spectrum, those with sensory and communication disorders, people with learning disabilities, or those who simply want a more relaxed concert experience; Toronto Symphony Youth Orchestra, heading into its 50th season providing a high-level orchestral experience for talented young musicians aged 22 and under and delivering, tuition-free, a unique, powerful, and life-enriching opportunity that encourages significant achievement, regardless of the career path participants choose to pursue; partnership with the local YMCA; collaborations with the Princess Margaret Cancer Centre and, in a uniquely innovative partnership with a local small-batch ice cream maker, the TSO developed Toronto's first symphonic ice cream flavor, Be Major.
Given the vast galaxy of robust, ambitious programs and initiatives developed by the Toronto Symphony, it is remarkable that the Orchestra recently announced the elimination of its accumulated deficit. Simultaneous to that good news was added the extension of Mr. Gimeno's contract through the 2029/2030 season.
In the Toronto Star, Mark Williams added another statement of purpose: "I would like to see the orchestra taking up more space, not just in its own arts and culture silo. Ultimately, we need to be Toronto's symphony orchestra. What that means is, whatever is important to the city has to be important to us. An openhearted, doors-open orchestra."
See Related: