Back to List
News
July 11, 2019
Bill Holman Band Comes Home to Los Angeles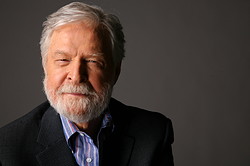 Photo: The Bill Holman Band will play Saturday, July 13 at the Kirk Douglas Theatre in Culver City, California. Photo courtesy of Lesley Bohm / Provided by Kathryn King Media with permission.
Bill Holman is one of the most respected and celebrated jazz musicians and big band leaders in the history of the music industry. Born in 1927, Holman continues to offer fans carefully thought out arrangements and compositions, splitting his time as an educator and leader of the Bill Holman Band.
His many decades in the music industry have been highlighted by several key collaborations. Holman has worked with some of the greats (no doubt his musical partners say the same of him). There's Charlie Barnet, Count Basie, Tony Bennett, Michael Bublé, Natalie Cole, Peggy Lee and Mel Tormé, among many, many others.
Audience members will receive a rare chance to see this legend in action when he leads the Bill Holman Band for a special concert Saturday, July 13 at the Kirk Douglas Theatre in Culver City, California.
The band consists of 16 members and has been going strong since 1975. Prior to its inception, Holman, a three-time Grammy Award winner, was composing, playing tenor saxophone and writing music.
Recently Hollywood Soapbox exchanged emails with Holman and his media representation. Questions and answers have been slightly edited for style.
What do you love best about the big band sound?
It's the collective energies of 16 talented human beings pulling out all the stops, channeled to one purpose — it's one of the most exciting experiences it's possible to have.
How much rehearsal goes into preparing the band for a concert?
I put together a unique program for each gig and tailor the tunes and the sequence to fit the venue and audience. We do four three-hour rehearsals to prepare each engagement.
When did you pick up your first tenor saxophone? Why that instrument?
When I was in junior high school, I was recruited to play clarinet in the junior high school band. Back then I had started to listen to big bands on the radio and especially liked the playing of Tex Beneke, of the Glenn Miller Band. My interest in jazz made the saxophone logical, so I switched to tenor in my first year of high school. I liked tenor better immediately.
When I was 15, I started my own band: tenor, two altos, two trumpets, trombone, piano and drums. We were called the Melody Saints (my mom suggested the name, and I was compliant). Our piano player only knew how to play boogie woogie, so when he took a solo that's what he played, no matter what the tune or the arrangement were like. We played stock arrangements of big band music.
Back then, Schirmer's had a big counter of these dance band arrangements, and every amateur band bought them and played them. The charts were expensive — 75 cents each!
The Melody Saints played the prom at my high school, and if I remember correctly, 'One O'Clock Jump' was one of the highlights. It must have been a tragic event. We weren't even good enough to attract a groupie, but in our defense, people were a lot more reserved in those days! After our triumph at the prom, our career vaulted to a repeat Saturday night gig at the Orange High School gym, and they even charged admission: 10 cents. That lasted five or six weeks. When the Melody Saints graduated, one of the trumpet players and I were the only ones who continued with music.
Do you feel the big band sound is continuing strongly into the future, or is the music struggling to find an audience in the 21st century?
The public mostly ignores big bands, but there are many musicians and composers/arrangers who feel the band speaks for them. There's a very healthy big band culture, made up mostly of musicians and their students. Lots of people are writing charts for big bands, and there's some very advanced music-making going on.
So the music survives, even thrives, in the 21st century, and the styles keep on developing. But big bands are not a money-making proposition. We do it for our own enjoyment. My own band, which has been rehearsing and performing together for almost 45 years, is now the best band in the world, in my humble estimation. Kids keep coming out of music school and wanting to join, so we've got a mix of both seasoned veterans and kick-ass young kids in the band. That's kind of how it's always been.
Even in just the last few months the band has jumped to a whole new level. We opened the L.A. County Museum of Art's summer jazz series, and it was thrilling to hear, just amazing.
You have dedicated a large part of your professional life to teaching younger musicians, composers and arrangers. Why is it important for you to give back?
My musical conception was largely built by listening to older players and writers. This is how younger musicians learn, and so for me, taking on the role of teacher and mentor is necessary. We play a festival at Elmhurst College nearly every year, and we always get a great reception there. The audience is made up mostly of music students. I've done clinics at Eastman School of Music, and the level of students there is really inspiring. I love hearing their work and talking with them in class — they really are learning. That being said, they still have to get out there and do it before they ripen.
Have you ever thought about retirement?
Yes, but it doesn't work.
What's the key to a successful career in the music industry?
Overwhelming desire and some talent.
By John Soltes / Publisher / John@HollywoodSoapbox.com
The Bill Holman Band will play Saturday, July 13 at 8 p.m. at the Kirk Douglas Theatre in Culver City, California. The performance is made possible by the City of Culver City. Click here for more information and tickets.