Back to List
News
July 23, 2018
Reading and Book Signing at Williams College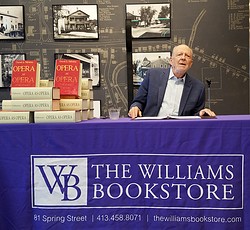 Conrad L. Osborne's long-awaited Opera as Opera / The State of the Art is scheduled for publication by Proposito Press on July 23, 2018. A celebratory publication party was held in New York on June 15th. A reception to feature Mr. Osborne reading excerpts and signing copies of the book is scheduled on Saturday, August 4 at 6:30pm at The Williams Bookstore in Williamstown,
MA. Mr. Osborne, who has had a residence in Williamstown for over 20 years, is familiar to Berkshires denizens not only for his many years as music critic but also for his appearances as actor in multiple productions of the Williamstown Theatre Festival.
Opera as Opera - a comprehensive and provocative analysis of today's opera scene - is by turns challenging, insightful, entertaining - even funny, and richly informative. Opera, maintains the author, finds itself in an artistic predicament that goes beyond previous generational disruptions and "is our own, and special." Arguing that we cannot address this predicament unless we recognize and define it, and that we cannot hope to envision the artform's future unless we first come to terms with its past, he examines all elements of recent operatic practice as revealed in performance - "Performance," he declares, "is our text." He asserts that with renewal of the repertory long at a virtual standstill, we have tried to substitute auteurial production methods and cultural revisionism in its place, with disastrous results.
Accordingly, Opera as Opera draws on performances encountered over an eighteen-year period to first analyze styles and techniques of production (direction and design), and then to trace, in copious detail, the developments in the performing disciplines of conducting, singing, and acting that have loosened our connection to the canon. In a central section, it also surveys the more general cultural background of this situation, in particular the influence of modern and postmodern philosophy and literary criticism, and the turn away from the master narrative which in the author's view was the principal generating force behind opera's greatest era.
Whether one's primary interest is musical or theatrical, whether it lies with intellectual and aesthetic matters or with into-the-weeds discussion of the work of the performers who bring opera to life, the reader will find much that will stimulate and challenge in this deeply informed, incisively written book.


Conrad L. Osborne

Photo: Ralph Hammann
Conrad L. Osborne, the object of a loyal following among serious devotees of opera, started writing for Opera News as a young man and quickly demonstrated the extraordinary combination of technical knowledge and deep insight for which he has become known, expanding his palette over the years to High Fidelity, Financial Times, Opus, New York Times, Metropolitan Opera Guides to Opera on Records and Video, and Musical America. He is also the author of a novel, O Paradiso. His current observations on today's opera scene can be found at his entertaining and highly informative blog, Osborne on Opera ("Possibly the best opera critic anywhere online." - Norman Lebrecht).
On Mr. Osborne's website, conradlosborne.com, he explains that his childhood love and fascination with opera led eventually to vocal studies, training in acting technique, and years of professional performance as singer and actor - experience that has been crucial in forming Mr. Osborne's knowledge and awareness of the many-faceted discipline of the performer's art. He has maintained a voice studio in NY for many years, and has also worked in opera development and administration, serving as staff member, board member and/or consultant to several important organizations in the field. This foundation proved essential to the depth of knowledge he has brought to his life's work - writing, teaching and criticism.
Opera as Opera (840 pp., $45) will be for sale at the Williams Bookstore reception, and otherwise only through:
conradlosborne.com and Seattle Book Company
For more information, visit conradlosborne.com,
Osborne on Opera: A Critical Blog, Kathryn King Media,
and call 917-751-8228.
See Related: