Back to List
News
May 8, 2019
Spring Gala to Celebrate Union of Two Concert Series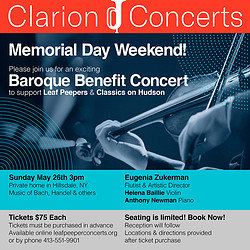 Board President Dave Hall and Artistic Director Eugenia Zukerman have announced the spring gala of Clarion Concerts , a long-established cultural force in New York's Hudson Valley and the Massachusetts Berkshires, on Sunday , 26 May 2019 at 3pm . The event will mark the inauguration of a new incarnation of Clarion Concerts, which currently presents Leaf Peeper Concerts in the fall, and will now add springtime series Classics on Hudson to its musical lineup. The gala features performances by Ms. Zukerman , flute; Anthony Newman , piano and Helena Baillie , violin, in music of W.F. , C.P.E. and J.S. Bach , G.F.Handel , and H. Biber . The event will be held in a private home in Hillsdale, NY. Tickets cost $75 and the proceeds will benefit both of Clarion Concerts' concert series. Directions to the event are provided with ticket purchase: Tickets to Clarion Concerts Benefit / 413-551-9901.
"The board and I are very excited to be expanding the horizons of Clarion Concerts to include Classics on Hudson," says Board President Dave Hall. "We believe that the rich tradition of concerts Clarion has produced since 1957 in the Hudson Valley and more recently the Berkshires, plus the innovative music and education programs devised by Classics on Hudson will beautifully complement each other. Since Eugenia Zukerman is Artistic Director of both entities, I'm surprised we hadn't thought of this sooner." Ms. Zukerman adds "Leaf Peeper Concerts and Classics on Hudson will now be able to present programs and projects that feed into and flow from one another in the most elegant way. Finally we will have series in both fall and spring, and will be able to develop ideas with a broader arc."
Clarion Concerts
Newell Jenkins and Jack Hurley established the Clarion Music Society in New York City in 1957. Jenkins, who specialized in music of the Baroque period, was both a scholar and the conductor of the Clarion Concerts performing ensembles. He performed all over the world for decades and established the concert series under Clarion's name in the Hudson Valley. Upon his death in 1996, Clarion Concerts of Columbia County, Inc., became independent of the New York City organization and Sanford Allen was appointed Music Director. Mr. Allen was a violinist with the New York Philharmonic and performed as soloist with many orchestras, including the New York Philharmonic, the Detroit and Baltimore symphonies. Under his direction, the Leaf Peeper Concerts Series continued Newell Jenkins' commitment to music of the Baroque era, but also expanded the repertoire with music of the 19th and 20th centuries. And under his leadership Clarion began commissioning new works, presenting a new piece by a noteworthy contemporary composer every year. In 2014 Eugenia Zukerman became the third Director of Clarion Concerts. Under her tenure Clarion has continued to commission new works, present exciting new artists and expand the breadth of styles and periods of music presented. As Artistic Director of Classics on Hudson, Ms. Zukerman has created successful music education initiatives offered in the schools of the City of Hudson since 2014.
Clarion Concerts Benefit and Gala Concert Program

*Trio Sonata in F major, for flute, violin, piano - G.F. Handel
*Sonata in B flat major, for flute, violin, piano - W.F. Bach
*Passacaglia for solo violin - H. Biber
*Duet in G Major, for flute and violin - C.P.E. Bach
*Italian Concerto in F Major, for piano - J.S. Bach
*Trio Sonata G (adagio and presto), for flute, violin, piano - J.S. Bach
* * * * *