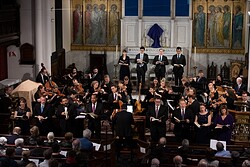 Highly praised early music ensemble TENET Vocal Artists trusts in the power of music to bring joy and peace to our 21st century world. Under Artistic Director Jolle Greenleaf, TENET Vocal Artists has won acclaim for its innovative programming, virtuosic singing and command of repertoire that spans the Middle Ages to the present day.
Even in the midst of a global pandemic, TENET Vocal Artists managed to present dozens of streamed concerts in 2020-2021. The 2021-2022 season returns to live performances with Fayrfax @ 500, featuring the music of one of England's most prominent Renaissance composers, Robert Fayrfax. Closer to holiday time TENET will perform Händel's Messiah, then for the remainder of the season there will be evenings devoted to the music of Praetorius, Charpentier, Schütz, and in April of next year, both in the U.S. and on tour in the UK, the group will perform music of Renaissance Welsh composer Thomas Tomkins (1572-1626).
Highlights of recent seasons include performances of J.S. Bach's St. Matthew Passion, St. John Passion, Bach's motets, Handel's Messiah, a three-year cycle of Carlo Gesualdo's Tenebrae Responsories, regular performances of music by Henry Purcell and his contemporaries in honor of music's patron saint, St. Cecilia, and explorations into medieval repertoire. TENET Vocal Artists has also dedicated itself to creating original theatrical performances highlighting works composed by, for, and about women in 17th century Italy.
Renowned for their interpretations of Renaissance and Baroque repertoire, TENET Vocal Artists' distinguished soloists have been praised for their pristine one-voice-to-a-part singing "to an uncanny degree of precision" (The Boston Globe). Under TENET's auspices, the highly praised Green Mountain Project gave annual performances (2010-2020) of Claudio Monteverdi's Vespers of 1610 and other reconstructed Vespers featuring music by Monteverdi, Chiara Margarita Cozzolani, Giovanni Gabrieli, Antoine Charpentier, Michael Praetorius, and their contemporaries.
TENET Vocal Artists collaborates regularly with other acclaimed ensembles and organizations including ACRONYM, Dark Horse Consort, Ensemble Caprice, Five Boroughs Music Festival, Quicksilver Baroque, the Sebastians, and many others.
TENET Vocal Artists performs regularly at Carnegie Hall, the Metropolitan Museum of Art, Caramoor, Columbia University, Yale University, and numerous other venues in and around their home base of New York City, as well as further afield at the Festival Casals de Puerto Rico, Berkshire Bach Festival, Connecticut Early Music Festival, Costa Rica International Music Festival, Montreal Baroque Festival, and many other festivals throughout the United States, Latin America and Europe.
* * * * *