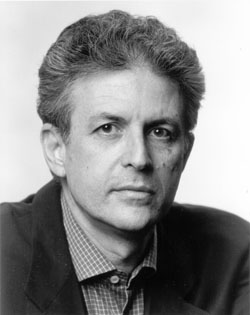 SOME THOUGHTS ON
OTHER MINDS
By Charles Amirkhanian
When American composer John Cage died in the summer of 1992, the New Yorker ran an unattributed obituary: "His epitaph might read that he composed music in other peoples' minds." Reading this, Jim Newman suggested "Other Minds" as the name of the major international music festival that he was about to launch in San Francisco, with myself as Artistic Director.

This moniker was an apt fit, as my lifelong specialty has been the showcasing - via radio, concert, and commercial recording production - of the careers of originals and outsiders in avant-garde music.
An electroacoustic composer and sound poet myself, I served as Music Director of
KPFA Radio
in Berkeley from 1969 to 1992. In the Fall of 1992 I became Executive Director of the
Djerassi Resident Artists Program
in Woodside, California where I remained until early 1997. And in 1998 I increased my schedule at Other Minds, taking on the job of Executive and Artistic Director, which I still presently hold.

I have been interested in John Cage's music since the early Fifties when my father presented me with an album of music by Cage and Alan Hovhaness, because the album cover featured a line drawing of an Armenian rug and the name of pianist Maro Ajemian.

Through Cage's influence, I began to notice that many of the most remarkable voices in late 20th Century music were those with atypical training and aesthetics. In turn, many of these composers felt beholden to Cage for opening up compositional vistas which rejuvenated and reinvigorated the field.

The names of some of those "other minds" were selected by me for the Composer-to-Composer Festival, which I co-directed with John Lifton in Telluride, Colorado, between 1988 and 1991. The festival hosted four consecutive summer sessions which included appearances by John Cage, Lou Harrison, Brian Eno, Pauline Oliveros, Morton Subotnick, Laurie Anderson, Henry Brant, Wadada Leo Smith, Louis Andriessen, Conlon Nancarrow, Jin Hi Kim, Joan La Barbara, I Wayan Sadra, Eleanor Alberga, Peter Sculthorpe, Alan Hovhaness, Tom Zé, Terry Riley, and Sarah Hopkins.
The modus operandum of the Composer-to-Composer Festival was based on a model from the Telluride Institute's Ideas Festival, in which major participants and speakers meet privately for four days and then speak to a larger group of conference registrants. The Ideas Festival has included such diverse participants as Tom Hayden, Newt Gingrich, Shirley Williams, Lee Atwater, and Edward Abbey, speaking on such heady conference themes as "Reinventing Politics: Beyond Left and Right."
The organizers' theory was that if each participant had a chance to engage socially with others of differing viewpoints before public panel presentations, posturing would be left aside in favor of interpersonal understanding. To a great degree this was successful, and the model has served well the integration of composers from diverse stylistic and cultural backgrounds in the context of Other Minds, now held annually in the San Francisco Bay Area. Most significantly, the private sessions are held in locations of great natural beauty and isolation, casting a hue of receptivity on the participants which takes them by surprise and opens their senses to new ideas.
In San Francisco, the backdrop became a 600-acre ranch which houses one of the United States' most prominent artists' communities, the Djerassi Resident Artists Program. Begun in 1979, the Djerassi Program hosts 65 artists annually for one month each on forested land located in the Santa Cruz mountains with a spectacular view of the Pacific Ocean. Since its founding, the Program has provided over 800 residencies to visual artists, writers, composers, choreographers, and intermedia artists of all persuasions. Applications for residency are received from 500 individuals from around the world each year, and artist panels in each genre award cost-free residencies to pursue creative work on an annual basis.

For information on applying to be a resident at the Djerassi Program visit their site.

Source: http://www.otherminds.org/shtml/Charlesonom.shtml