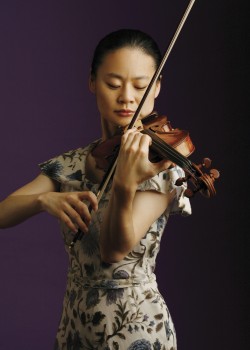 Timothy Greenfield-Sanders
Midori
Today Midori is recognized as an extraordinary performer, a devoted and gifted educator, and an innovative community engagement activist. In recognition of the breadth and quality of her work in these three entirely separate fields, in 2012 she was given the prestigious Crystal Award by the World Economic Forum in Davos, was elected to the American Academy of Arts & Sciences, and was awarded an honorary doctorate in music by Yale University. In 2007, she was named a Messenger of Peace by U.N. Secretary-General Ban Ki-moon. In essence, over the years she has created a new model for young artists who seek to balance the joys and demands of a performing career at the highest level with a hands-on investment in the power of music to change lives.
Named Distinguished Professor of Music at the University of Southern California in 2012, Midori works with her students at USC's Thornton School, where she is also Jascha Heifetz Chair. Midori thrives amidst the challenges presented by her full-time career as educator at a major university. To these commitments she adds a guest professorship at Japan's Soai University, and substantial periods of time devoted to community engagement work.
Midori's involvement with community engagement began in earnest in 1992. Then just 21 years of age, she started an organization to bring music to underserved neighborhoods in the U.S. and Japan. What started with just individual personal appearances by Midori in classrooms and hospitals has blossomed over the last 22 years into four distinct organizations, whose impact is felt worldwide. The underlying idea inspiring Midori's community engagement work is that the joy of music should be available to all.
Because people in wealthy or privileged circumstances have easy access to the performing arts, Midori's organizations focus on bringing music to the less fortunate. Since 1992, Midori & Friends has enhanced the lives of over 235,000 New York City children who have little or no access to the arts, through high quality music education that nurtures their creativity and self-confidence (www.midoriandfriends.org); Partners in Performance offers recitals by Midori and others to chamber music lovers in small communities throughout the U.S. seldom visited by established touring artists (www.pipmusic.org); Orchestra Residencies Program brings a week-long residency by Midori to two U.S. youth orchestras with winning applications each year (http://www.gotomidori.com/orp/); and Music Sharing provides both traditional Japanese music and Western classical music performances and workshops to children in schools, hospitals and institutions, as well as learning opportunities in Japan and Southeast Asia for young artists (chosen by audition from all over the world) who are interested in community/music engagement work (www.musicsharing.jp). Both Orchestra Residencies Program and Music Sharing also conduct satellite programs with Midori internationally, in such countries as Costa Rica, Myanmar, Bulgaria, Mongolia, and Cambodia.
Midori's enthusiasm for playing and supporting the music of our time has blossomed into a significant and ongoing commitment. Over the years she has commissioned works for a great variety of forces. Over all, the individuals Midori has sought out to create new repertoire for the violin represent an impressive array of some of the most talented of today's composers, including Lee Hyla, Rodion Shchedrin, Krzysztof Penderecki, Derek Bermel, Brett Dean, Einojuhani Rautavaara, Michael Hersch, Pierre Jalbert, Peter Eötvös, and Johannes Maria Staud.
Midori's two most recent recordings join an already extensive discography on two other labels, with fourteen recordings on Sony Classical and two on Philips. In 2013, Finnish label Ondine featured Midori in a rare recording of Paul Hindemith's violin concerto, in collaboration with the NDR Symphony Orchestra and conductor Christoph Eschenbach, which won a Grammy for Best Classical Compendium. Later in the season the British label Onyx released a recital program by Midori with pianist Özgür Aydin in sonatas for violin and piano by Shostakovich, Janácek, and Bloch, which was nominated for an International Classical Music Award.
In 2004, Midori joined the ranks of published authors with the release in Germany of a memoir titled Einfach Midori (Simply Midori), for the publisher Henschel Verlag. It was updated and reissued in German-speaking territories in 2012.
In 2000, Midori received her bachelor's degree in Psychology and Gender Studies at the Gallatin School of New York University, graduating magna cum laude, and in 2005 earned her Master's degree in Psychology, also from NYU.
Midori was born in Osaka, Japan in 1971 and began studying the violin with her mother, Setsu Goto, at a very early age. Zubin Mehta first heard Midori play in 1982, and it was he who invited her to make her now legendary debut - at the age of 11 - at the New York Philharmonic's traditional New Year's Eve concert, on which occasion she received a standing ovation and the impetus to begin a major career. Today Midori lives in Los Angeles. Her violin is the 1734 Guarnerius del Gesù "ex-Huberman." She uses three bows - two by Dominique Peccatte, and one by Paul Siefried.
For more information about Midori, call 831-620-1332 and visit
www.GoToMidori.com and www.kathrynkingmedia.com.
* * * * *